[See part 1: What To Do About Masks]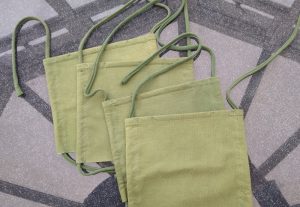 If you have a look on YouTube, there are dozens (or hundreds) of videos about making masks. Some explain at length, some are totally without words. Many are from craft shops, or people using YouTube as a revenue stream, so number of ads varies. Trawling through them all is pretty tedious, I've observed!
The ones I've chosen here fit these criteria, but you will find many others if you want to look!
being short (minimise waffle!)
being easy to understand
being fairly easy to make
Some notes
As mentioned in my article What To Do About Masks? you do not need to try to mimic a medical-grade mask, if you do not work in an ICU. It's really important to be able to breath with your mask on. More layers will dramatically decrease breathability, and you risk becoming so uncomfortable (even light headed) that you will give up on it altogether. And any covering is better than none.
I prefer not more than two layers of cotton fabric (t-shirt, pillow case, quilting fabric), but Wales requires 3 layers. I find t-shirt fabric most comfortable for any of the patterns. If you want to have a disposable filter, then choose a design that includes a pocket (mine, or the last two on this page) which will give you a 3rd layer. Some masks with filter pockets are actually 3 layers thick before you add the filter.
NOT new fabric. Make sure your fabric is washed, and ironed if needed.
Note that ANY mask can use EITHER elastic loops behind the ears, OR ties behind the head/neck, so if you find a pattern you like apart from how this bit was done, you can replace that part of it with what you want.
Ties – You can use narrow elastic, or sew your own fabric ties, or use shoe laces, or narrow elastic hair bands, or cut 1″ strips across an old t-shirt, leggings, etc and stretch the pieces for soft, stretchy cords. No need to go out shopping.
A wire across the bridge of your nose greatly improves the fit, whatever shape you start with. (I've been using paper clips)
Glasses – a shaping wire helps reduce fogging, as does using lens cleaner or detergent to clean your glasses, to reduce fogging. (If that still doesn't work, you maybe need a lighter mask).
Beards – these may be a problem for fit, so go a bit larger and probably for a rectangular style. The close fitted ones may be more of a challenge.
Styles – mostly either made with shaped pieces to fit your face closely, or a rectangular piece which is then fitted to your face with pleats or gathers. The rectangular ones are the easiest to make, but some people prefer the shaped masks for fit.
Mask patterns
Update – easy mask without wire
This turned up recently, seems that this extra 1″ fold to the inside ends up stopping your glasses fogging. Brief experiments have been promising. Otherwise it's essentially the same as mine (below) but with video instructions.

My easy-sew mask
For my version of a rectangular mask with t-shirt fabric, here are the instructions (I may do a video one day). Click on the pictures for a larger image, and your back button to come back to this page. You can do this on your machine or by hand. It works as well with woven cotton material, but in that case you would need to hem the bottom edges of the two layers if you want to keep the pocket.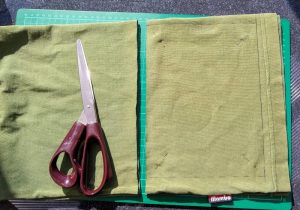 Cut 2 pieces of heavy cotton t-shirt, or one heavy and one light, 24cm/9.5″ wide x 18cm/7″ high. Sharp scissors will cut 4 layers together.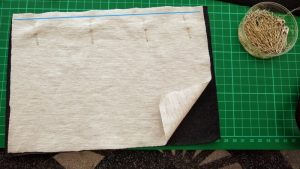 Sew them right sides together at the top, with a 1/4″/5mm seam (do NOT sew along the bottom IF you want a filter pocket)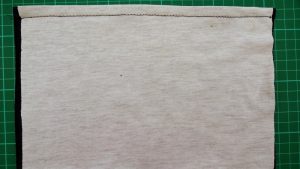 Turn it right way out, and press the seam smooth, then stitch along the top about 1/4″/7mm from the top edge to make a wire pocket.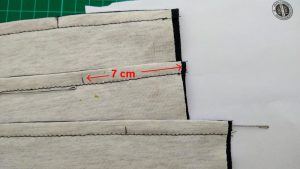 Mark the inside about 7cm from each end. Straighten a paper clip, then bend in the ends 5mm, so no sharp end pokes out. Slide this into the top seam pocket, and stitch closed at the 7cm marks.
Fo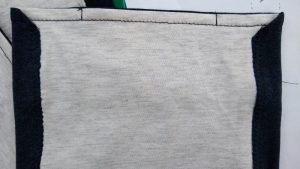 ld each end in about 2cm, and stitch 1.5cm from the fold. Turn the top corners under if you feel like it.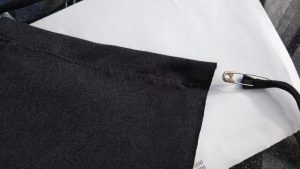 Thread your chosen ties through the side pockets, and tie the ones at the bottom together to go behind your neck.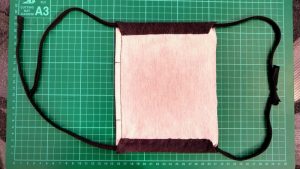 When finished, it will look something like this, on the inside.
See [these instructions for putting it on]. The open edge at the bottom means that you can easily tuck in a filter if you want to, the way it shapes around your face will stop the filter from falling out. Adjust the gathers at the side of your face for a good fit, and tie the ties comfortably snugly.
Easy sew masks
This first video has both a fitted mask and a rectangular mask, both from t-shirt fabric. Jess shows how to make the pattern by measurement, without needing to download it. Her rectangular one is the nearest I've found to what I do. Notice she uses ear loops, you can use ties with these patterns if you prefer.
No-sew masks
A t-shirt is great for masks with no sewing at all. This video shows two, one with rectangles and one made from a sleeve. This was the inspiration for mine.
This one is a really simple two-layer mask without ties. (I would use the fabric a little more efficiently though!)
Fitted with filter pocket
This mask takes a little more stitching, but is fitted and the lining makes the filter pocket. Although Imelda makes it with woven fabric, I use t-shirt fabric with this pattern (then you don't have to worry about enclosing raw edges). If you do the top stitching at the top 1/4″ away from the edge, you can slide in a wire for shaping as I do with my rectangular one at the top of this page.  If you try out other video instructions, use this 'CraftPassion.com' pattern for a great fit.
NOTE – there are no spoken instructions in this video, so if the background music gets annoying, turn off the sound!
Rectangle with filter pocket
Great to know you can use woven or knitted fabric for this shape! If you can't get the cord she talks about, you can use shoe laces or cords from t-shirt fabric.
In-depth information, variations, substitutions
If you want to learn a lot about mask making, all the ins-and-outs and so on, there is a great deal of information on The Fabric Patch channel.