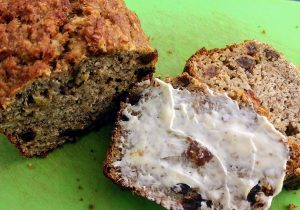 6 oz wholemeal flour
2 oz Vitalite (or other butter/marg)
2 tsp baking powder
1 heaped tsp mixed spicess
1/4 tsp bicarb
1/4 tsp salt
3 oz porridge oats
1 lb over-ripe bananas
3-6 oz raisins *
1 grated apple
2 large eggs
Cut the marg into the flour and stir in the spice and other dry ingredients. Peel and mash the bananas.  Stir the apple & raisins into the mashed bananas. Add the eggs and fruit to the flour mixture and beat until smooth.
Grease & flour (or line) 2 x 1lb loaf tins. Divide the mixture between the two, about 14-15 oz each, and bake at 180C for 50 min.
When done, cool in pan 5-10 minutes (if pan not lined), then turn out and cool on rack.
Quite nice buttered! Around 60 cal per oz. * I did it with 3 oz raisins, and it's fine. Might be nicer with more but I haven't done that yet!