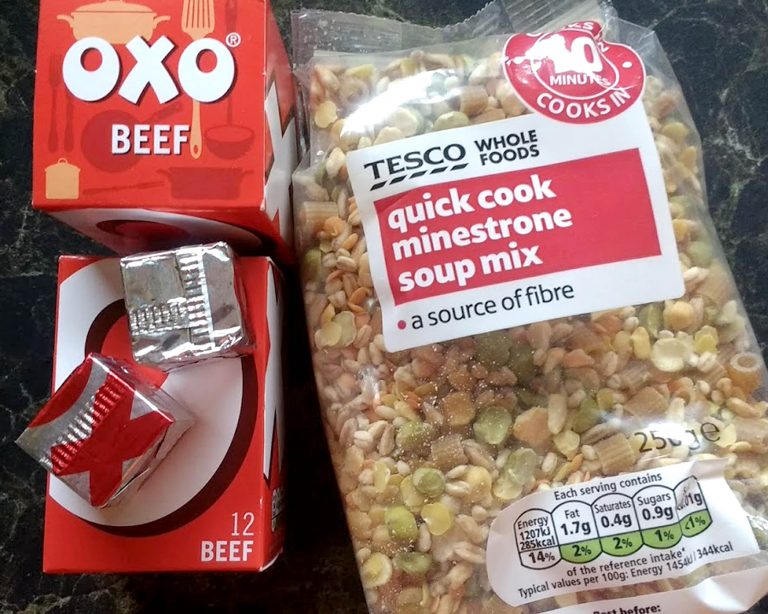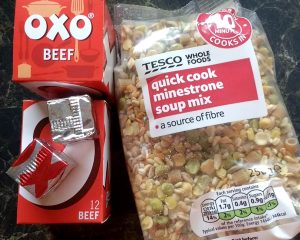 I normally walk into my nearest supermarket for my shopping, but there are a handful of things I can't get there. So last week I drove the 5 miles to another shop, armed with my normal set of re-usable bags (the woven polypropylene sort which I've had for years) plus a couple of flimsy carriers and some plastic tubs, to see what single-use plastic I could avoid.
In the veg section, cherry tomatoes are only pre packaged here though the punnet was at least cardboard which is good. The loose mushrooms were only white, not chestnut, so I left them. Loose carrots were a win, so I put them in one of the flimsy bags I brought. Broccoli and courgettes are available loose too. Terry likes soup for lunch so I make a lot from scratch and buy the ready-diced root vegetables and pulses – in a cellophane pack, unfortunately. Chopping the veg myself is an option, but suddenly makes a quick job very slow.
Found a paper sack of unwashed potatoes, 7.5kg – rather more than I normally buy, but with the car for transport it's OK. Just a bit late in the season, hope they don't sprout before I get through them! It has a plastic 'window' down the back so I can see what I'm getting. I wanted small Bramleys (for baked apples) and was sad to see them in a plastic bag, but they were at least UK origin. I usually get mini peppers, this time I just got a large yellow pepper which is unwrapped.
Yogurt is a part of our daily routine. I've been getting the 1kg tubs of Yeo Valley to reduce packaging… but perhaps the 500g pots are better as they are much thinner plastic with a cardboard sleeve. Pondering that issue, it could mean potentially shopping more often. We'll see.
I tried the butcher counter for meat, hoping to take it home in the reusable containers I'd brought rather than their plastic, but no joy. Still, it at least avoids the plastic meat trays which apparently are not of a recyclable material (as far as Warwickshire is concerned). I will be buying from a proper butcher when possible, and the butcher counter at the supermarket otherwise. And continue my ongoing policy of smaller portions of meat than one normally sees. A good butcher is helpful if you're clear about what you want.
I like to get sugar from somewhere that still does UK (beet) sugar, so I stocked up when I was there. Their cane sugar is Fair Trade, but food miles still are a concern so I get the beet sugar for preference.
I've been buying Bovril stock cubes for years, but have decided (especially now they have changed their recipe) that I may as well move to foil-wrapped OXO cubes in a cardboard box. That's certainly trivial but a really easy win. No more little plastic pots of stock, either!
Chocolate snacks will have to be curtailed. They almost all come wrapped in plastic films (except Kit-Kat – but that's by Nestle which is a whole other matter). And I don't really need them, of course. Even biscuits are all wrapped in plastic films. I'm intending to do a bit more baking and buy less of the easy sweet stuff.
We don't eat a lot of crisps (potato chips to Americans) but if I buy them I'll get a larger bag to portion out rather than individual bags.
I haven't bought squash since my son was small, I just get fruit juice and add water if needed. Cartons are recyclable now which is great. I buy a little lemonade in the summer (lemon soda, to Americans) to go with fruit juice but will look for glass bottles next time I want some. Wine and beer still come in glass or cans.
Bottled water is quite an issue, isn't it. I've heard of people who buy dozens of bottles a week! I used to have to buy spring water some years ago when we were on a shared boat, for some reason the water from the boat affected my digestion. However, filtering the water seems to have solved that. So I have a filter at home and on the boat, and the half-a-dozen 300 ml bottles of Scottish spring water I bought a year or two ago (small enough for my handbag), which I simply refill from the tap (at home) or filter and keep re-using until I lose them. I don't think I've managed to actually wear one out.
Ice cream is a big deal in this house. Today I bought 2 litres of vanilla (in plastic – I think next time I'll try Mackays) and 2 small cartons of chocolate of the expensive brands. Twice the price of what I usually buy (and then because they were on half-price offer!). So we'll probably be having more deserts with custard, instead (made from custard powder). Baked apples, or steamed sponge pudding (really easy from scratch in the micro), or even cake.  Yes, I know – everyone else just cuts out dessert! A step too far at this point, there might be mutiny…