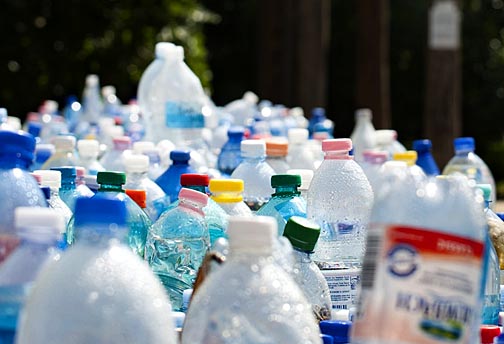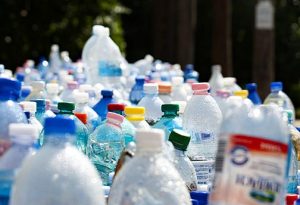 I'm already noticing that both my bin and my recycling area are filling more slowly! And of course the bin is mainly plastic film, and envelopes since avoiding meat trays. We're fortunate here that the range of goods accepted for recycling is quite large, and there is kitchen waste (collected in starch compostable bags) collection, too.
Have you tried the 'plastic footprint' questionnaire from Greenpeace? Needs work, but it's a start.
Someone sent me a list of 51 ways to save plastic, put online by an American several years ago. There are a lot of good ideas there, though some don't apply in the UK. I've also come across a 'Plastic-less Lent 2018' initiative with a calendar of ideas.
So I thought I'd put down some things I'm doing or am working on. You can start with the greatest sources of plastic in your life, or the easiest to get rid of. But the thing is to start. Mainly it's a question of setting up some simple new habits, and only requires you to think it worth the 'bother'.
Say no to shop and supermarket carrier bags 
(It seems so obvious, but take your own! Store some reusable bags in your car, or handbag, or desk – wherever you go shopping from.)
Stop buying bottled water and drinks all the time
(Re-use the bottles you have to fill with water or whatever. Buy fruit juice in cartons rather than plastic bottles. Look for fizzy drinks in glass rather than plastic. Take your own cup to fill for a take-away coffee.)
Buy meat from a butcher, or butcher's counter in supermarket
(Few butchers these days use paper so it will be wrapped in plastic, but you can usually at least avoid buying plastic trays with care. Hopefully this will change soon! But plastic meat and fish trays are not recycled whatever the plastic, so minimising them is great.)
Buy veg that are not wrapped in plastic
(Much fruit and veg are offered unwrapped in the supermarket, use those when possible. I never see soft fruit without a punnet, though, nor chestnut mushrooms.)
Try out your local milkman
(Dairy Crest still delivers milk to the home, including milk and fruit juice in glass pint bottles. Check milk&more for delivery to your area. They also sell veg, fruit and salad boxes (and other groceries) though I don't know how they are packaged. You may have other milk delivery options.
Look for other plastic-packaged foods you can buy differently
(I've found brown sauce in glass, I'll re-fill the squeezy plastic bottle from it. Try the supermarket deli for ham, cheese, and the like. They won't let you use your own packaging, but theirs is at least smaller than the plastic boxes from the shelves. We buy yogurt in large tubs rather than small pots. I'm buying less ice cream, and aiming for that which comes in paper cartons. Buy block butter or marg and leave a chunk out at room temp for easy spreading, or whip with oil for home-made spreadable butter, adjust salt to taste and hide in an old butter tub if you need to!)
Reduce plastic bottles for washing
(Don't use liquid clothes wash, go back to powder packaged in paper or cardboard. Use bar soap, not bodywash. If you need liquid soap by the sink, buy in bulk and use refillable bottles. Washing-up liquid comes in bulk too, which is still plastic but less. Consider bar shampoo – Lush works well even in hard water areas if you are not sensitive to SLS; many others work well if you have soft water. Get a razor with a changeable head. Try a bamboo toothbrush.)
Make your own bread
(You can probably get bread machines in the charity shops, if you want to do it the easy way and don't want to buy new. Really, once you get over the novelty of it, it's very simple and routine.)
Cook from scratch
(Avoid the inevitable plastic trays from ready meals, and get more value out of the unavoidable plastic involved with food. But when you want a treat, weigh up the plastic element. My local chippy happily wraps just in paper on request, and has replaced polystyrene with a material made out of starch.)
Find ways to reduce your home use of disposable plastic
(Various options – biodegradable food wrap – still polythene but rots down in landfill in 2 yrs rather than several decades; plastic elasticated food covers – microwaveable, reusable and washable in dishwasher, but still plastic; elasticated cotton covers machine washable (good project for crafters!); or these interesting cotton-and-beeswax covers, last ages, can be refreshed and re-waxed, then when worn out will rot down in landfill or your green waste bin (I'm trying these, a bit cheaper, and some people make their own). Replace plastic plates with paper or card plates. Skip the plastic cutlery. You probably have loads of plastic boxes in various shapes, but marg and ice cream tubs can still be useful.)
These are the things that we are doing or actively working towards. I'm looking into making my own shampoo with soapnuts, but that's a bit extreme for most people! I hope to write up my experience in due course.
(Photo by mali maeder from Pexels)