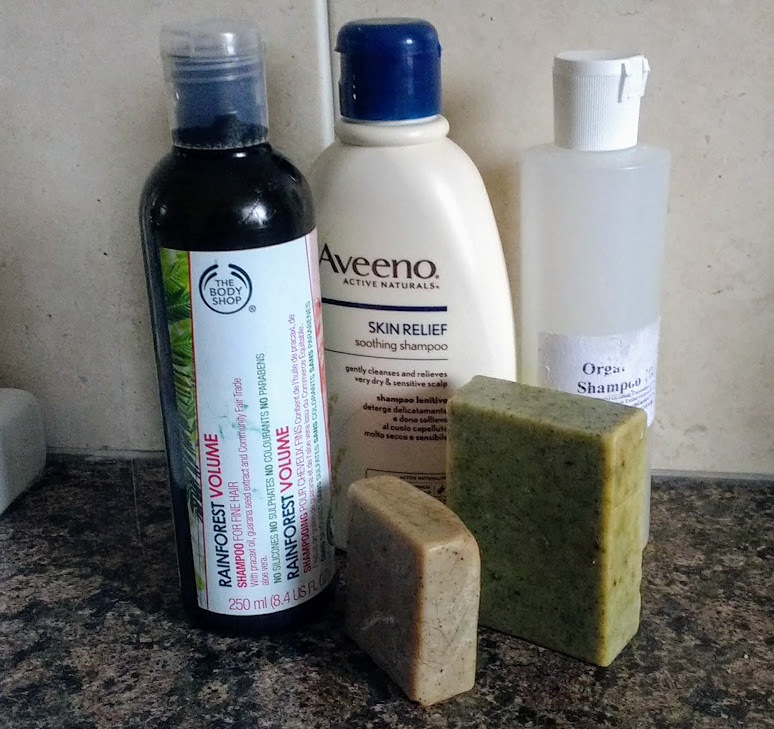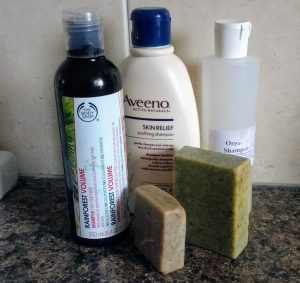 I've been trying to find a replacement for shampoo purchased in bottles or tubes. I'm also trying to wash my hair less often than every other day, so it slows down my experimentation.
If it wasn't for trying to get away from plastic bottles, I've found liquid shampoos that suit me.
A bar shampoo is the obvious, logical, easy choice to try – and no, it is not just like using soap, it's a different recipe apparently, resulting in a pH (acidity) nearer to what hair is.
Another option is using soapnuts to make some at home. If you happen to have soapnuts anyway, because they are great for washing clothes, then that might be a worthwhile experiment. I've had a go…
Cider vinegar rinse
For these experiments, you may find a cider vinegar rinse useful, especially in hard water areas. It helps remove any soap residues more thoroughly, and also smooths the hair cuticle so it detangles the hair and you may not need ordinary conditioner at all. In the UK, Sainsbury's sells their own brand cider vinegar in a glass bottle, and Tesco sells Aspall's in glass. Add 2-4 Tbs to 1 cup/8oz/225g water. I keep mine in a used plastic white vinegar bottle with a vinegar-shaker kind of hole in it, for ease of use and safety in the shower.
Shampoo bars
There has been a lot of homework involved, and I'm probably not done. [Edit: in 2020 I compiled this list of comparative shampoo bar prices. Having tried a few now in 2022, Lush is the one I re-buy because it needs little to lather well, it keeps its integrity to the last fragments, and so is very good value. But I did learn that the yellow one Montalbano is MUCH too drying for me. Seanik and New work well for my household.]
Here's the show so far:
It is useful to know if you are in a hard water area (which comes from under the ground where there is limestone), or soft water (rain water reservoirs). If your kettle NEVER furs up, it's probably soft water (so much nicer for your hair) which works with more kinds of shampoo bar.
Also know your own hair type, this article explains the differences. Some need more moisturising and some wilt with the least bit of oil. My hair is particularly lank when it isn't happy.
This article was very helpful in understanding the issues with the three kinds of bar shampoo, as they all behave differently. I've only tried cold-pressed bars, so far – the kind you typically get at places that make theirs by hand.
I suspect if you have short hair, it doesn't matter much what you use. If you have dry hair, a lot of the soaps claim to be moisturising. And I think if you have normal hair, and have been using the ordinary shampoos around with no trouble – and especially if you live in a hard-water area – you might like to try Lush bars for an easy win – though of course there may be some from the cold-pressed process that work, which I haven't come across yet.  (I've had 20+ years of trying to find something that doesn't either dry my scalp or weigh down my thin, lank hair.)
I suspect if you have soft water it means you can use anything, effectively – but I don't know.
At the moment, I am trying one made with soapnuts from the Soapnut Shop, and certainly my scalp is much less itchy which is great. But after the 3rd time of washing, my hair seemed to stay as stringy after washing as before. I will try it again with a cider vinegar rinse, see if that helps.
Another one I've tried once so far is Nettle shampoo from Planet Soap. I've rinsed thoroughly with a cider vinegar rinse. Not sure yet, but my scalp at least isn't itchy.
Soapnuts
I've also been experimenting with making soapnuts shampoo, as I have soapnuts in stock (great for washing clothes).
For a trial size, break up 2-3 soapnut shells (make sure you take the berries out, if they are there) add to 1 cup cold water, bring slowly to the boil (starting cold and heating slowly helps extract the maximum saponins, a bit like you extract the flavour from stock bones) then simmer for 15-20 minutes. Careful it doesn't foam over! Leave to steep for a few hours until cold, or overnight, then strain and bottle the result. Store in the fridge between uses. Stings if you get it in your eyes.
Using it is like washing your hair with just water as it's so thin, so you actually may find you use all or half of this in one wash. Some recipes recommend thickening with guar gum (made from locust beans), I haven't tried that yet. I also added some lemon juice which is supposed to help it work better in hard water, and to keep better… but I don't know.
The soapnuts followed by the the vinegar rinse seem to get my hair clean effectively, but there were no suds. I don't know if I did something wrong, or there never are (apart from when boiling!) The recipe I linked to includes cider vinegar in the shampoo, so I might try that next along with thickening because the hardest thing about using it was it being the consistency of water.
Verdict?
None, yet. I think I will get some guar gum and try to thicken it. Likewise I will try the shampoo bars again, maybe alternate between. I do like the better volume I get with my Body Shop Rainforest shampoo, so may use that on occasion. [Edit: Bodyshop have discontinued their Rainforest range]
Assorted bar shampoos recommended by others
This list is by no means exhaustive, and I will add to it as people recommend others.
If you wonder what products use palm oil (when they don't say) see this page from the Rainforest Action Network lists the common chemicals that are often derived from palm (the usual source, though could also be derived from other plant oils or mineral oils). This includes various Sulfates.