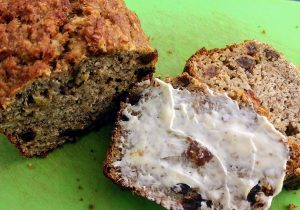 3 oz margarine
12 oz moist brown sugar
3 (or 4 *) eggs
1 tsp vanilla
2 lb. very ripe bananas, peeled and mashed
12 oz wholemeal flour
3 tsp baking powder
1/2 tsp (level) bicarb
1/4 tsp each nutmeg and allspice
1 tsp each mixed spice and salt
(4 oz * porridge oats)
(4 oz * raisins)
(2 oz chopped nuts, optional)
Cream marg and sugar together, and beat in eggs, one at a time. Blend in vanilla and mashed bananas. Add dry ingredients, and beat well.
Grease and flour 3 small (1 lb.) loaf tins. Bake one shelf up from the bottom of the oven, at 170°C/350°F/Mk 4 for 45 – 50 minutes, or until done. Leave in tins for 5 minutes before turning out carefully onto a wire cooling rack. Keeps very well. Serve sliced and buttered.
* Basic recipe makes three small loaves. Add an extra egg, oats and raisins to make four
loaves which fill the 1 lb tins more generously.