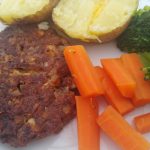 I have tried a few different veggie burger recipes, and this is the first I know I'll be trying again! Moist, flavourful, and holds together. We just had it on the plate with veg and potatoes, but I'm sure it will be great in buns if you prefer. Nice bit of crunch if browned. I prefer to pre-cook the onions, but it's not essential. Makes about 500g of mixture, for 4-6 burgers.
200g mushrooms, finely chopped
60g onion, finely chopped
60g grated cheddar
60g dry bread crumbs
40g wholemeal flour
2 eggs, lightly beaten
1/4 tsp dried Thyme
1/4 tsp ground pepper
2 crumbled beef or veg cubes (dissolved in 1Tbs hot water)
(or 1/2 tsp salt if you don't use stock cubes)
Mix all the ingredients together thoroughly in a bowl. Shape into 4-6 patties and chill in fridge for an hour (or freezer for 15 min). Heat 1Tbs oil over a medium heat, and brown the patties for 3-4 min on both sides. Serve with mash and peas, or beans and a bun (or whatever!)
Recipe from Taste of Home and adapted to UK measures. Comments on the page indicate the patties freeze well.