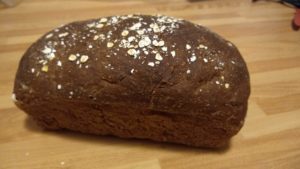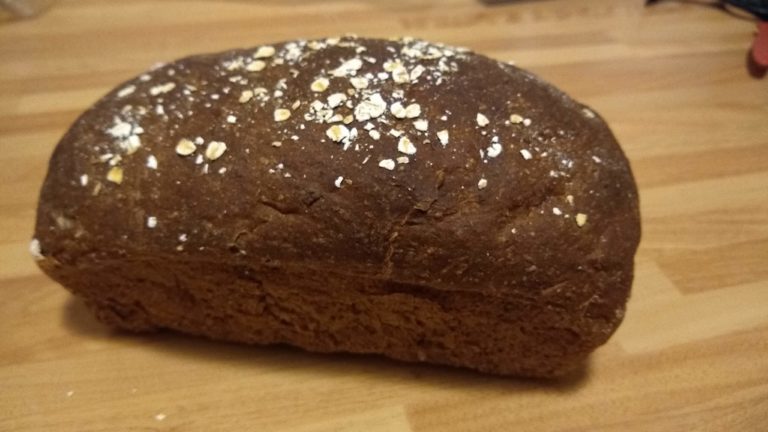 This recipe was given to me by my Aunt Celia (my mother's sister) which she thinks was used by her grandmother probably in the early 1900s. It comes from Fannie Farmer's Cookbook. I've adapted this for modern UK ingredients. Makes 3 small 1 lb loaves.
2 1/2 oz porridge oats
18 fl oz boiling water
14 oz strong wholemeal bread flour
14 oz strong white bread flour
scant 1 Tablespoon dry active yeast
6 oz (weight) molasses
1 Tablespoon butter
2 teaspoons salt
In a bowl, combine the two flours. In a small bowl, combine 8 oz of the mixed flours with the yeast.
In a large bowl, weigh the porridge oats and pour on the boiling water. Stir, and leave to one side to cool a while, until hand-hot, about 50C. Stir in the salt, molasses and butter.
Dump the 8 oz flour-and-yeast mixture into the oats, and beat by hand or with a mixer for 1-2 minutes. (This is optional, it just helps the gluten to start developing.) With a wooden spoon, work in enough of the rest of the flour to make a knead-able dough, and turn it out to knead for a couple minutes. (Use as much flour as you need, but as little as you can get away with.) Cover and leave to rest for 10 min.
Continue kneading the dough until smooth and elastic. Place in a greased bowl, turning to grease top, and cover. Put in a warm place to rise until double, around 3/4 hour.
Punch dough down, knead briefly, and divide into 3 equal portions (or two). Grease three 1 lb loaf pans or two 1 1/2 lb pans. Shape each portion of dough and place into a tin.
Cover, let rise in warm place until double again. Bake at 190C for 35 min or until done. Turn out and let cool on wire rack.