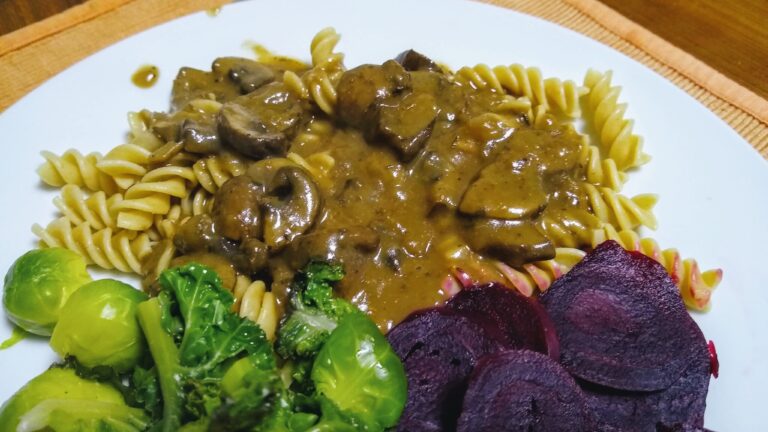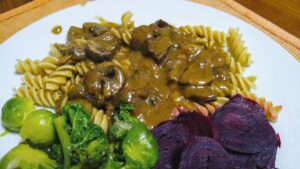 I have been exploring cream of mushroom soup recipes. This particular one has great taste, and was intended to be made into a soup, but it's absolutely fab on rice or pasta! So I'm using it as another vegetarian entre, and it will become a regular for us. This recipe is half the original (and anglicised), which I think does nicely as a stroganoff for 4 portions (2 meals) but of course it will double or quadruple easily. I haven't yet actually made it with the cream but using some milk to thin and colour it before serving works just fine for us. (You may like plain yogurt, I didn't enjoy that as much. Crème fraiche when we have visitors, I think!)
1 oz butter (30g)
1 Tbs oil
1 onion, diced
12 oz brown mushrooms, sliced (350g)
1 tsp garlic powder (or 2 cloves fresh garlic)
1 tsp dried thyme (or 2 tsp fresh thyme)
2 Tbs dry red or white wine (optional)
3 Tbs flour (I use wholemeal)
10 fl oz stock (425 ml) (or made with 3 stock cubes)
1 tsp salt
1/2 tsp ground  black pepper
1 beef or veg cube
Additional water, if needed
up to 4 oz (115ml) Milk, double cream, evaporated milk, plain yogurt, crème fraiche or soured cream (optional) to taste
Sauté the onion gently for 2-3 min, then add the garlic and cook for another minute. Add mushrooms and thyme, and cook for 5 min. Pour in the wine and cook a further 3 min.
Sprinkle the mushrooms with the flour, mix well and cook for a couple minutes. Add the stock in gradually, mixing in well. Reduce to low, add salt, pepper and the beef cube. Cover and simmer for 10-15 min, stirring occasionally, until thickened.
[If cooking for the freezer, this is the point to portion it out. Add any milk or cream after re-heating.] [If making as soup, you may want to put some or all into a blender, depending on how big the pieces are.]
If using cream etc, stir into the hot/re-heated mixture and let it heat through but not boil.
Serve with brown basmati rice or linguini, and green vegetables.  I allow about 12 oz/350g for two of us, and freeze the rest in 12 oz blocks in takeaway trays, but if you don't have the side veg you may want double portions.