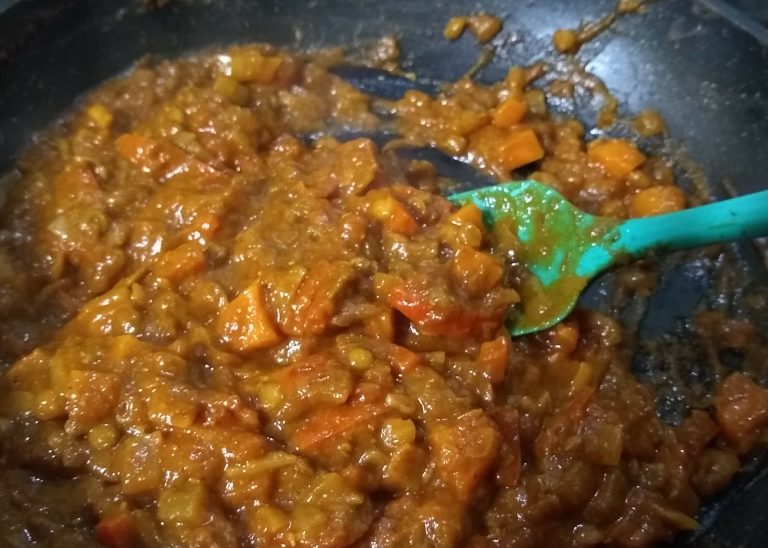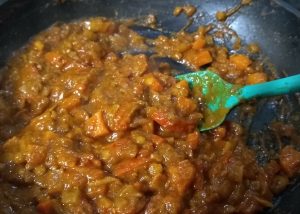 Another of my vegetarian experiments, which works well if you like curry. I wasn't convinced I like lentils, but this turned out very enjoyable with brown basmati and a samosa. Tinned lentils make this quick and easy!
1 carrot, chopped
1 onion, chopped
1 heaped dessertspoon Madras paste
½ can chopped tomatoes
¼ – ½ can brown lentils
2 vegetable stock cubes
⅛ tsp ground cardamom
½ tsp ground coriander
1 Tbs ground cumin
1 tsp garlic powder
½ tsp salt
Additional water or stock, as needed
Sauté the carrot gently for 2-3 min, then add the onion and cook for a couple min longer. Stir in the Madras paste and cook for a little while, then add the tomatoes. Drain and rinse the lentils and add them to the mix, and then everything else. Simmer for 20-30 min adding additional liquid occasionally as needed. Optionally, pop into the slow cooker for a 2-3 hours on low, if you need to make other things for the meal.
Serve with brown basmati rice and green vegetables, and samosas or poppadums or other tasty accompaniments.  I allow about 12 oz for two of us, and freeze the rest in 12 oz takeaway trays, but without the side veg you may need double portions.
Serves 4 as a side dish.