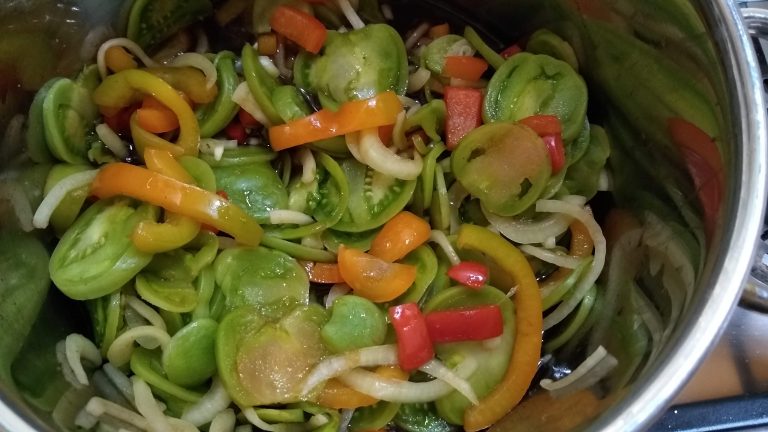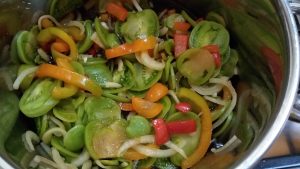 Looking for a pickle for green tomatoes that was NOT a chutney, I came across this one (which I've adapted) from Joy of Cooking, 1998 European edition.
900g green tomatoes, thinly sliced
250g onions, thinly sliced
32g salt
375ml cider vinegar
225g soft brown sugar
225g green peppers
115g red peppers
1 stick celery
½ tsp garlic powder (2 cloves finely chopped)
¾ tsp dry mustard
⅜ tsp salt
½ tsp ground cloves
¾ tsp ground ginger
⅛ tsp ground cinnamon
(⅜ tsp celery seeds, optional)
Combine the tomatoes, onions and salt. Stir, cover, and refrigerate for 12 hours. Then RINSE WELL in cold water, and drain.
In a large, non reactive saucepan, combine the vinegar and sugar and bring to boil, stirring until the sugar is dissolved. Stir in the tomatoes, onions, and all the rest of the ingredients.
Simmer uncovered, stirring often, until the tomatoes are translucent, about 1 to 1½ hour. Should get quite gloopy, rather than runny, and the veg no longer crisp.
Meanwhile, wash your jars (maybe 6 or 7?) and lids in hot soapy water, rinse hot, and place jars wet on a paper lined tray in an oven at 140°C for 20 min to dry in the oven (and boil lids for 20 min). Do a heatproof jug, or your preserving funnel, at the same time. (See this online reference for more detail)
When cooked, transfer straight into the hot sterilised jars (fill to the top to minimise air), put on the lids, and leave to cool. When cold, label and store in a cool, dark place. Should keep ok for a year, unopened.