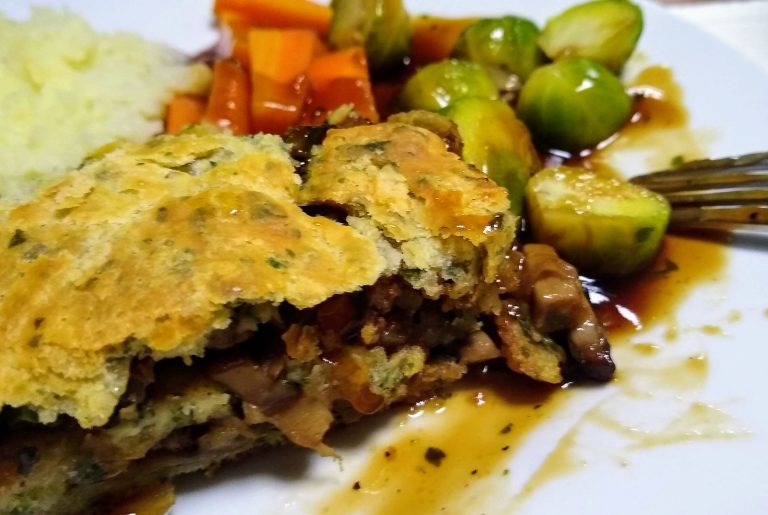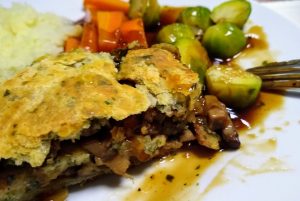 This works well cold and sliced for a buffet, or hot with gravy for a main meal. This makes a great contribution to a bring-and-share, because it is a little different from what one usually sees.  Both filling and pastry can be made up ahead and assembled when needed. Makes 10-12 slices.
For a vegetarian version, use 12 oz mushrooms, a large handful of Quorn, and a handful of petit pois instead of the beef. Add them to hasten cooling down the cooked filling.  If cooking for two, this would be enough for three short rolls, or pasties, which would serve two per meal.
Basic filling
1 lb lean minced beef
6 – 8 oz mushrooms, wiped and chopped (or a tin of sliced mushrooms, drained)
1 stick celery, very finely chopped
1 onion, peeled and finely chopped
(1-2 cloves garlic, optional)
2 beef cubes
2 Tbs white or brown flour
3 Tbs dried parsley
Salt & Pepper to taste
A little water
Saute the finely chopped celery until it starts to soften. Brown the mince (if used) in a pan, breaking up any lumps.  Stir in the onion and cook until translucent.  Add in the mushrooms and cook for a few minutes.  Crumble the beef cubes and stir into the mixture. Stir in the flour until everything is evenly coated, and cook a little while stirring frequently.  Add water, stirring in quickly, until there is just a bit of well-thickened gravy coating the other ingredients – you don't want much or it will make the roll soggy.  Simmer a little while, especially if you've added too much water.  Stir in the parsley.  Turn into a dish or tray and cool quickly, and refrigerate.
Pastry
6 oz SR flour
3 oz block butter or marg, cold
3 Tbs dried parsley
salt
milk or water to mix
Cut in or or rub butter into flour until like breadcrumbs.  Stir in parsley and salt.  Add enough milk to mix to make a dough.  Chill until needed, even overnight.  This will make the pastry easier to handle.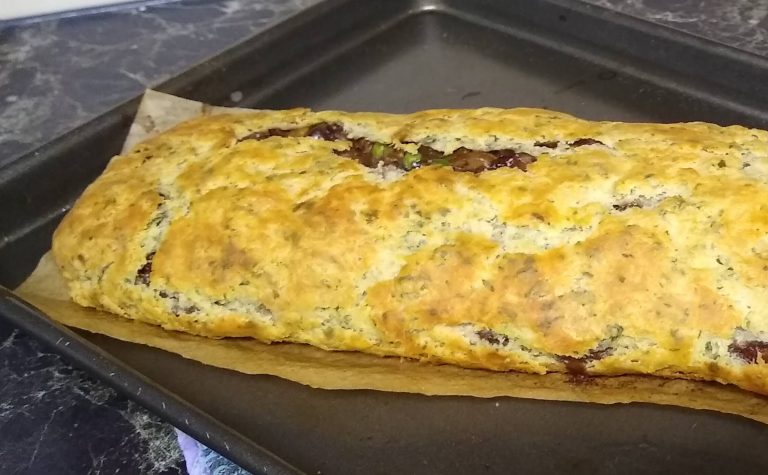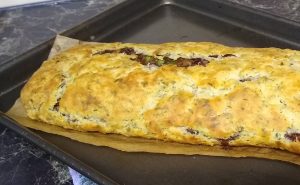 Roll out into a rectangle, about 10" x 12" ish.  Spread the cold filling evenly over the pastry to within about 1" or so of the edges.  Dampen those edges with milk.  Roll up *loosely* along a long edge like a Swiss Roll – if you roll it tightly, it's more likely to split while baking. (NB – for a buffet, make 2 smaller rolls, so that you can make them a smaller diameter for ease of slicing). Press to seal the side and tuck in the ends.  Place on a non-stick or greased baking tray (probably corner-to-corner!).  Press cross-hatch lines along the top with the back of a knife if wished.  Brush with milk (or else it doesn't really brown).
You may want to prepare potatoes and beetroot for baking at the same time. If large, give them 1-2 min in the microwave first.
Bake the roll below centre of oven at 180°C (375°F or Mk 5) for 45 min or until it looks golden and done.  If serving hot, make a gravy.  If using for a buffet, cool first and it will slice more easily and neatly. 10-12 slices cold, or 6 portions for a main meal.