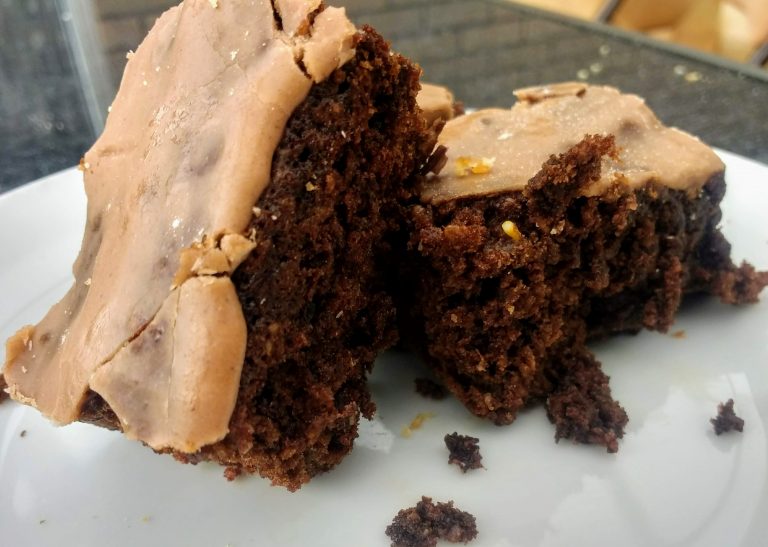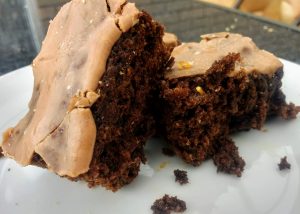 4 oz margarine
6 oz muscovado sugar
2 fluid oz molasses
2 eggs (or 1 egg + 1oz oil + 1oz milk)
4 oz wholemeal flour
4 oz porridge oats
4 oz raisins
½ tsp bicarb
3 tsp (heaped) ginger
1 tsp (heaped) mixed spice
Grease a 7″ x 10″ x 2″ cake tin. Cream together marg and sugar. Beat in eggs, one at a time, and then the molasses. Weigh out all the rest of the ingredients, add to the creamed mixture, and beat until smooth.
Spread mixture evenly in the prepared tin, and place in a preheated oven (Mk 4/350°F/170°C) on the second shelf up from the bottom. Bake for about 35 min., or before it seems quite done. It should sink a little bit as it cools.
Leave to cool in tin, covered with a clean tea towel. When cool, spread with a thin glacé icing, flavoured with cinnamon, or cinnamon oil if possible. When the icing has set, cut cake into bars – makes 12 – 18.