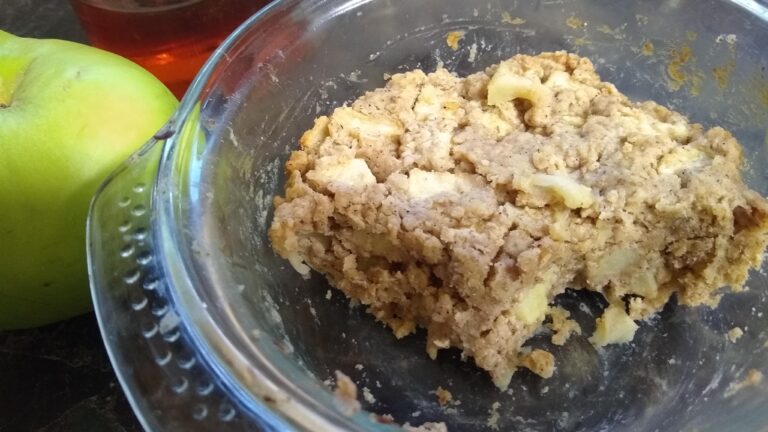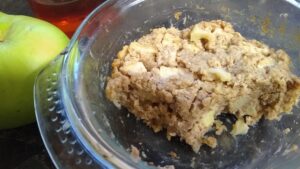 This is an easy, inexpensive and filling recipe I found back in the 70s and have re-discovered. Took me ages to track down my recipe, and when I hunted online I couldn't find anything like it. This recipe yields about 1lb/450g, for 4-6 portions, but of course would multiply up quite easily.
With your usual substitutes, it can also be dairy free or vegan, or gluten free.
2 oz (60g/2 Tbs) golden syrup
2 oz (60g/¼ cup) butter or marg
2 oz (60g/⅔ cup) oats
2 oz (60g/½ cup) SR flour
1 heaped tsp mixed spice (pumpkin spice)
8 oz (225g) cooking apple, diced
Melt marg and syrup gently together in a pan.
Meanwhile, mix together dry ingredients in a bowl, stir in the apple. Add the melted mixture to the dry ingredients and blend well. Turn into a greased 1 pint casserole dish and press level.
Bake at 170°C/Mk 5/375°F for 25 minutes. Serve hot or cold, with custard or ice cream, or yogurt. About 100 cals per 1 oz/355 cals per 100g – a portion depends on appetite! But 2-3 oz each is plenty, I think. (You could try baking in a muffin pan, for ready-made portions.)
Two Granny Smith apples probably substitute quite well for the large Bramley, but you can try whatever apples you have to hand. If you feel so inclined, add raisins, or add/substitute blackberries or other fruit; or use honey, or maple syrup. It's pretty flexible I think! No harm having less fruit, if the apple isn't so big.