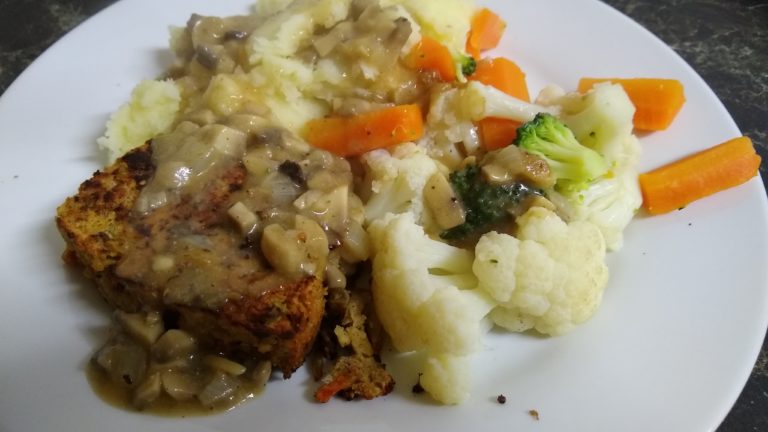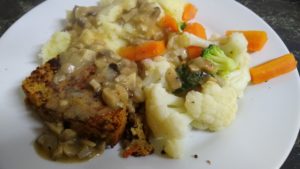 I've been looking for vegetarian recipes that work OK for my family (who don't much like beans other than the Heinz baked sort). This loaf goes down quite well, especially with a mushroom sauce, side veg and mash or baked potatoes. Allow an hour for the prep, at least the first time!
40g quinoa (soaked 30 min then rinsed, if you're sensitive to the saponins)
120ml water (4 floz)
60g red lentils
280ml water (10 floz)
Rinse the quinoa, put into a small pan with boiling water. Put the lid on, bring to the boil, simmer about 10 min, then turn the heat off and leave until needed.
Rinse the red lentils 2 or 3 times. Bring water to the boil and add the lentils. Put the lid on and simmer 10 min, then turn the heat off and leave until you need them.
1 smallish carrot, diced
1 stick celery, very finely chopped
1 small onion, chopped
100g mushrooms, chopped
(1 small pepper, chopped)
25g almonds (chopped or ground)
25g porridge oats
25g breadcrumbs
1/2 tsp herbs de Provence (or a good handful of fresh parsley)
2 crumbled veg stock cubes
1 tsp Garlic powder
salt and pepper
1 egg
In a frying pan, heat oil or butter and cook the carrot and celery for 2-3 min. Add the onion  (and pepper if used) and cook for another couple minutes. Stir in mushrooms and cook a couple more minutes.
In a large bowl, combine the lentils and quinoa with all the other ingredients and mix well. Add the egg last when it has cooled a little, and mix well. Press into a lined 1 lb loaf tin, or shape into a compact oval loaf shape on a tray (or maybe small cupcake portions?). Bake at 180C for 40 min, until firm and golden brown. Let rest 10 min before slicing.
Serve hot with veggies, mash and a mushroom sauce, or cold with salad. To reheat, fry slices in a pan with butter or oil. I haven't tried burgers yet, but it might work!
You could try replacing the lentils with .5 cup mashed Aduki beans.