This is a traditional Yorkshire treat, dense and chewy, and easy to make Vegan because there are no eggs. If you like ginger, it's well spiced. Using cut oats instead of porridge oats gives it an unusual gritty texture.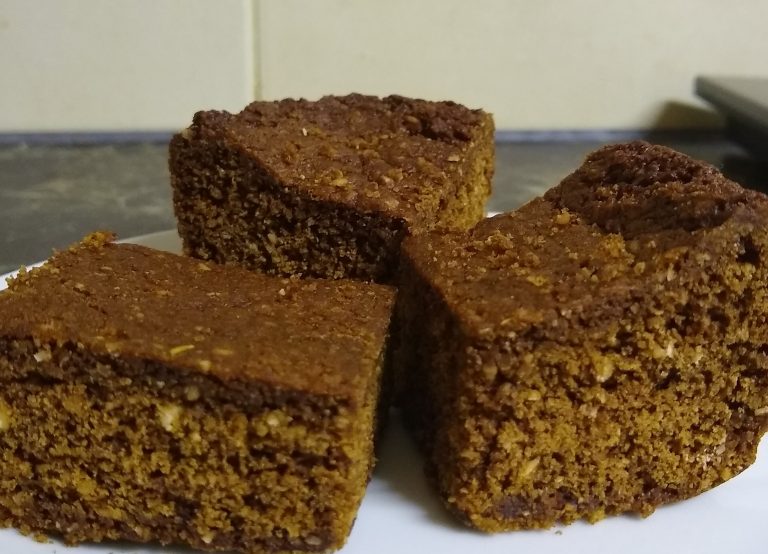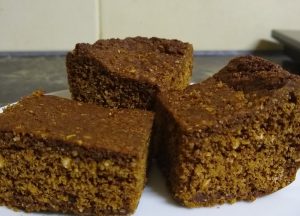 7 oz plain wholemeal flour
5 oz medium cut oats
1 heaped tsp mixed spice
2 heaped tsp ground ginger
1 rounded tsp bicarb
4 oz marg
3 oz golden syrup
2 oz molasses
6 oz soft brown sugar
1 fl oz milk (or water)
Mix dry ingredients together in a bowl.  Weigh marg, sugar and syrups into a saucepan and melt together gently.  When melted, stir in milk/water to cool a bit, then add to dry ingredients.  Beat with a wooden spoon until smooth.
Grease and flour, or grease and line, an 8″ x 8″ pan.  Bake at 160°C for 40 min or until just done. It will sink a bit in the middle, that's fine.  Cool in tin, then remove and store in an airtight container for a few days, for the flavour to develop.