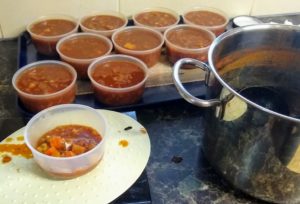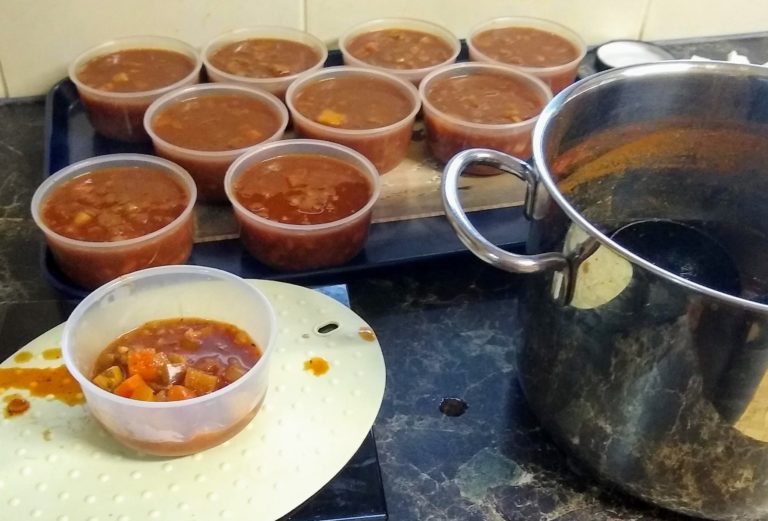 I cook this to my husband's taste, but if less cooking suits you that's fine. It sometimes goes together a bit randomly, but I wrote it down this time, and can now look it up online 😀
700-800g diced root or soup veg (I get pre prepared)
1 finely slice stick of celery
1 small onion, sliced and quartered
4 beef stock cubes
1 tin tomato puree
2 Tbs Italian herbs
1 tsp garlic powder
1/2 tsp Worstershire sauce
1/2 tsp salt, some ground pepper
1.5 litres (quarts) boiling water
125g (1/2 pack) Minestrone Soup Mix (from Tesco)
In a large pan, get the water boiling, and add everything else. Cover and simmer for an hour, stirring occasionally so it doesn't stick. Taste to check the seasoning. Then ladle it into 200g (7 oz) portions for the freezer, makes 11 portions unless you add other stuff.
---
The Quick cook minestrone soup mix from Tesco has Wholewheat Pasta (20%) with Part-cooked Barley, Wheat, Green Split Peas, Yellow Split Lentils, Yellow Split Peas, and Red Lentils.
They do an alternative Wholefood Soup and Broth mix which is similar and I have substituted when the other wasn't available, but which needs to be pre soaked overnight. You can always add mini quick cook pasta if you want. I've seen this kind of broth mix in other shops.