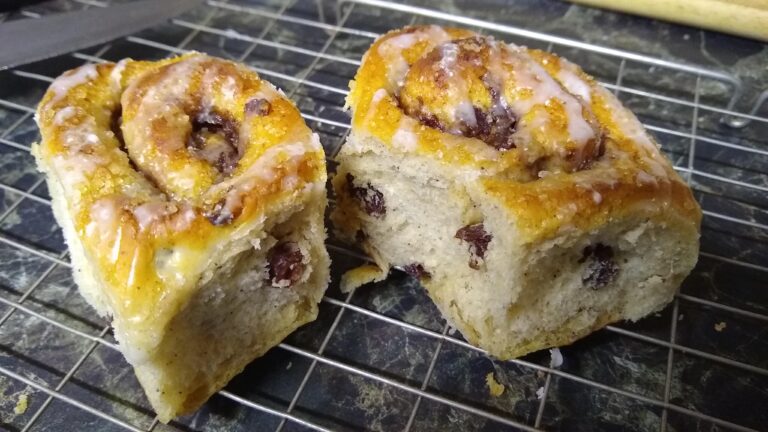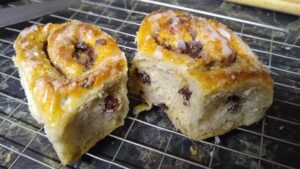 Chelsea buns are popular in my family, and these have a strong American influence of Cinnamon Rolls. Best recipe I've found, and only slightly altered (and translated into English!)
The rapid-mix method is uncommon in the UK, but using a mixer at the start helps to develop the gluten more quickly.
Dough
210g (7½ oz) bread flour
55g (2 oz) sugar
2 tsp easy bake yeast
½ tsp salt
115g (4 oz) milk heated to 50°-55°C
3 Tablespoons (40g) vegetable oil
1 egg
35g (1 ¼ oz) additional flour (more or less)
60 g (2 oz) raisins
Filling
30g/1 oz softened butter
55g (2 oz) soft brown sugar
1 tsp cinnamon
Method
Combine dry ingredients (except additional flour). Stir in milk, then oil and egg. Beat with electric mixer on high, or hard by hand, for 3 min.
Stir in the additional flour to form a dough. Turn out onto a floured surface and knead for 4-5 minutes (about 150 turns). Cover with a bowl and let rest for for 10 min.
While the dough rests, grease a 9″ round or 8″ square tin, and mix the filling ingredients together in a small bowl.
On a floured surface, turn out the dough and roll it into a rectangle, about 9″ x 12″. Spread the soft butter evenly on the dough, and sprinkle the brown sugar and cinnamon evenly over the butter.
Roll up the dough (not too tightly) from the long edge. Cut into 8 equal pieces with a serrated knife, and arrange in the prepared tin. (Put the end pieces cut side up.) Note they'll be quite separate from each other, to allow for rising. Let rise in a warm spot until double, about 1 to 1 ¼ hours. (Or, cover with plastic and put in fridge over night, and remove an hour before baking, put in a warm spot to double.)
Sprinkle evenly with demerara sugar. Bake in a pre-heated oven at 170°C for 25 min. Let cool in tin for 10 min, then turn out onto a rack to cool. Drizzle with a little glace icing, if wished.