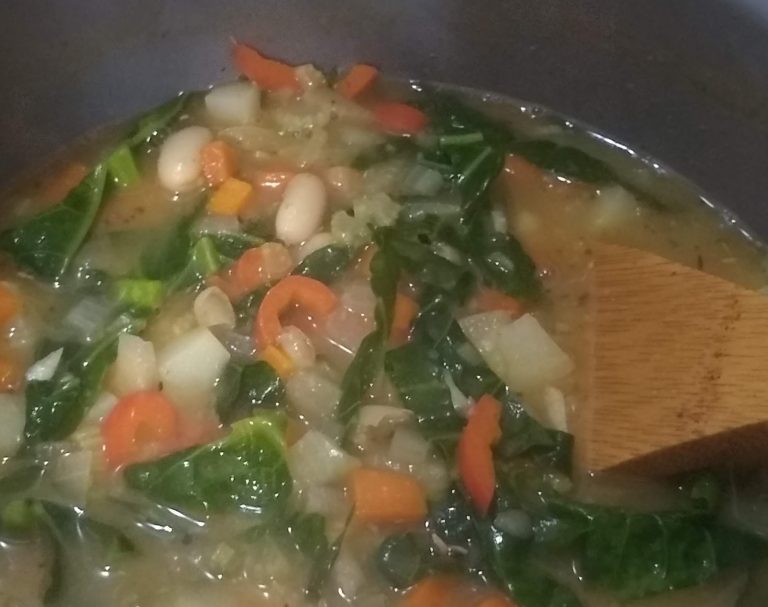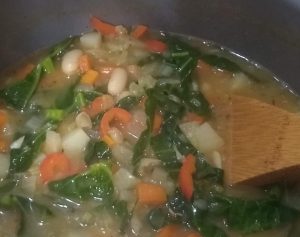 Found a soup recipe I've adapted to be a savoury topping for potato – or else even topped with sliced potato and baked in the oven would be good. Finding ways to use more beans for protein, and no mushrooms for a change. This does four portions for us as I always serve fresh veg alongside, but you may only find it enough for two.
2 Tbs oil
1 onion, diced
1 carrot, chopped
1 stick celery, finely chopped
1 tsp garlic powder (or 2 cloves fresh garlic)
⅛ tsp hot chilli powder
1-2 vegetable stock cubes
5-6 oz water or some vegetable stock
fresh ground black pepper
1 bouquet garni
4 oz waxy potato, scrubbed and diced
½ tin canellini beans, drained & rinsed
2 leaves of curly kale, stem removed and leaves finely shredded
(or 80g frozen spinach, or shredded brussels tops)
Sauté the carrot and celery gently for 2-3 min, add the onion and cook for a bit, then add the garlic (if fresh) and cook for another minute.
Mash half of the beans for thickening if wished, and add the beans with the rest of the ingredients. Simmer until thickened and carrot pieces tender.
Serve over mashed potato, and with vegetables on the side.  I allow about 12 oz/350g for two of us, and freeze the rest in a 12 oz block in a takeaway tray, but if you don't have the side veg you may want double portions.